Japan Tour 2007
02.11.2007
Kashiwa
- SAX
03.11.2007
Tokyo-Funabashi
- Koh-en "Hans-Christian-Andersen"
03.11.2007
Tokyo-Ueno
- Sensation
04.11.2007
Osaka
- Club Jungle
05.11.2007
Kobe
- Black Beat
06.11.2007
Kyoto
- Kyoto Muse Hall
08.11.2007
Shiga
- B flat
09.11.2007
Hamamatsu
- Mescalin Drive
10.11.2007
Aichi
- Radio Club Yumekibo
11.11.2007
Tokyo-Shinyuku
- ACB-Hall
11/1st Marienplatz Munich, far too early in the morning
It's 5am at the Marienplatz and 8 sleepy guys are just staggering out of the underground. Beside the japan voyagers also our guitar player Jens (who couldn't join us due to his work) after having tippled through munich's nightlife the whole night long, both trouser pockets filled with Jägermeister. "Would have found no sleep, anyway..." Poor guy...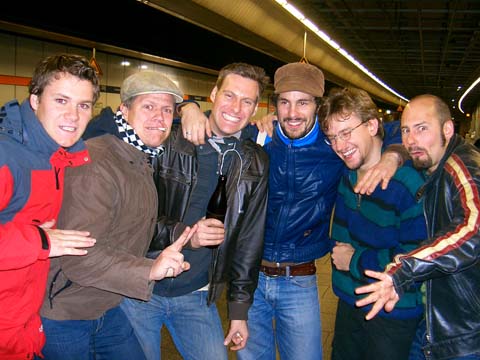 First coffee at the airport (Fabian and Jesko took one called "Franzsikaner") and afterwards our flight to Kobenhavn with an extremely lack of drinks. There we had 5 hours to visit the city and to get our beer-level to "normal" again. By the way, if you want to know, why 5 hours staying just read our tourreport of Japan 2006....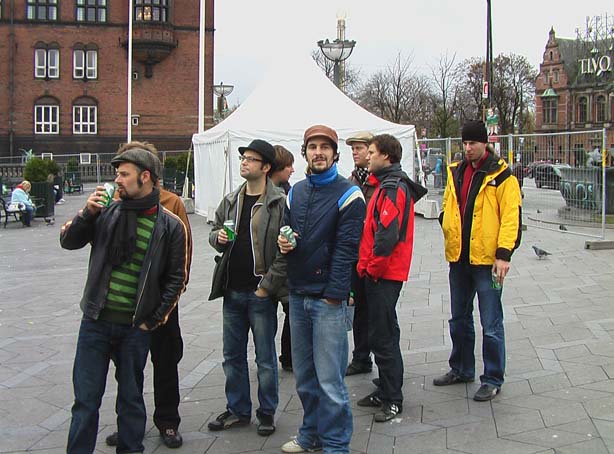 11/2nd Tokyo and Kashiwa
10 hours flight to Tokyo are really nasty: Some couldn't sleep in the seats, others get pissed because to stewards continuosly overlook one after the fourth beer (brass section of course) and our singer Konni went through pandemonium beyond the clouds thanks to his fear of flying, even the pills he swallowed before couldn't help here...
Landing: The plain just seesawed rollercoasterlike down towards Tokyo. Konni's dying another thousands times, Fabian's getting sick and after about 20 hours journey (and 4 hours of sleep before) everyone's totally exhausted.
But in Japan it's 10 am, and our japanese companions, drivers and managers, Nambu and Kosuke standing spick and span in front of us and now let's go.... 2 hours drive to Kashiwa where we're going to play our first gig!!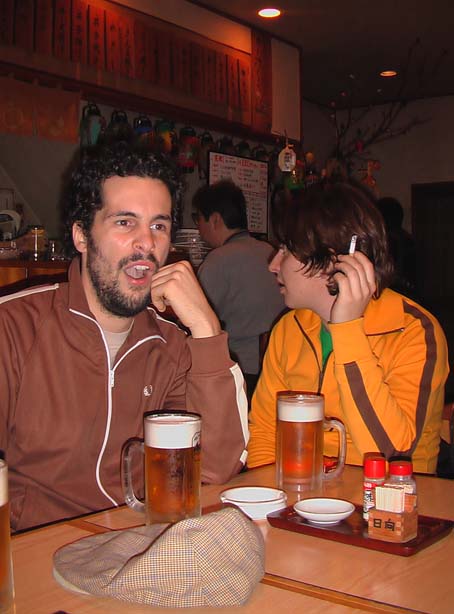 First soundcheck, good equipment, nice people, even if Fabian meanwhile tries (and fails grandiose) to get some information from the japanese stage manager, smattering his few words Japanese. Well, well, the language barrier....
Then our first contact to Japanese food. After we realized that we couldn't read anything on the menue, we just ordered - hit and miss - everything - and it turned out to be just amazing.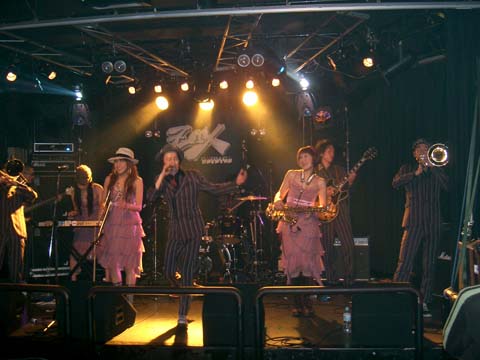 Afterwards concert. Before our gig "all-about-ska-performers", "Skuff links" and Dallax (Nambu and Kosuke's band). Though Konni has been woken up from deep sleep about 5 minutes before we start, he's doing an incredible show, jumping up and down the stage like a mad easterbunny (German expression....) and - some minutes after the last benefit he's lying again in the backstage, far away in the land of dreams: A phenomeon, this guy....
11/3rd Tokyo-Funabashi and -Ueno
We stay overnight in the house of Kosuke's family in Tokyo and their hospitality was just incredible. Thank you so much once again!! Now we really come in touch with Japanese culture and for all those which are here for the first time the first highlight are of course those Japanese toilets that water-clean and blow-dry your bottom. Jan and Olli almoust fall through a paperdoor in the traditional Japanese room and Jesko, Simon, Mike and Daniel are just going on tippling together with Kosuke's father (who proves that Japanese can be hard drinking too)till the morning's dawning.
At 10am we depart because today there will be two gigs. And from now on there's almoust everyday the same nice picture: Two cars, two drivers (poor Nambu and Kosuke), 9 completely shattered and bleary-eyed Benuts and about 20 promills....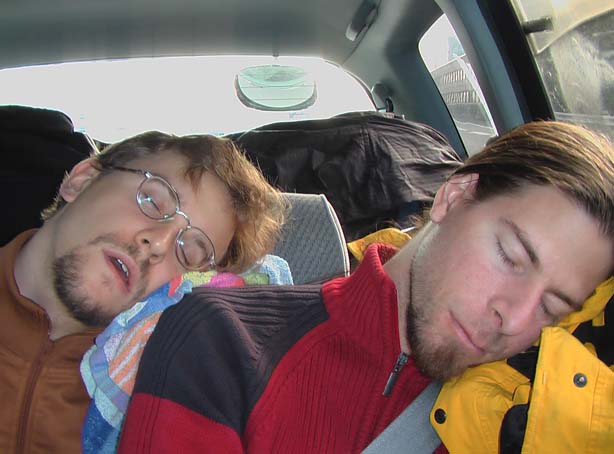 The first gig is at noon in the Hans-Christian-Andersen park in Funabashi and it's a bit like a garden show. Daniel rather looks like a zombie than a drummer ("This shit happens at every tour: At the first evening I'm getting so drunken that I pissed of boozing for the rest of the time..."), but thank goodness he recovered soon.
It's good to have such a great hangover, so everything was amusingly absurd. The stage was in a traditional japanese lake with water lillies and before us there was a traditional japanese dancing group, the crowd are elder pairs and familys who are already watching fascinated those strange Europeans carrying their equipment through the garden show.
Say what you want, but you rarely find such a thankfull and - yes frenetical crowd than in Japan, no matter which age. At the end most of the people there where stood up from their benchs, dancing together with mom, dad, children and grandma or grandpa. Just dare trying this at a traditional Bavarian "Biergarten" (beer-garden), e.g. at the Tegernsee.....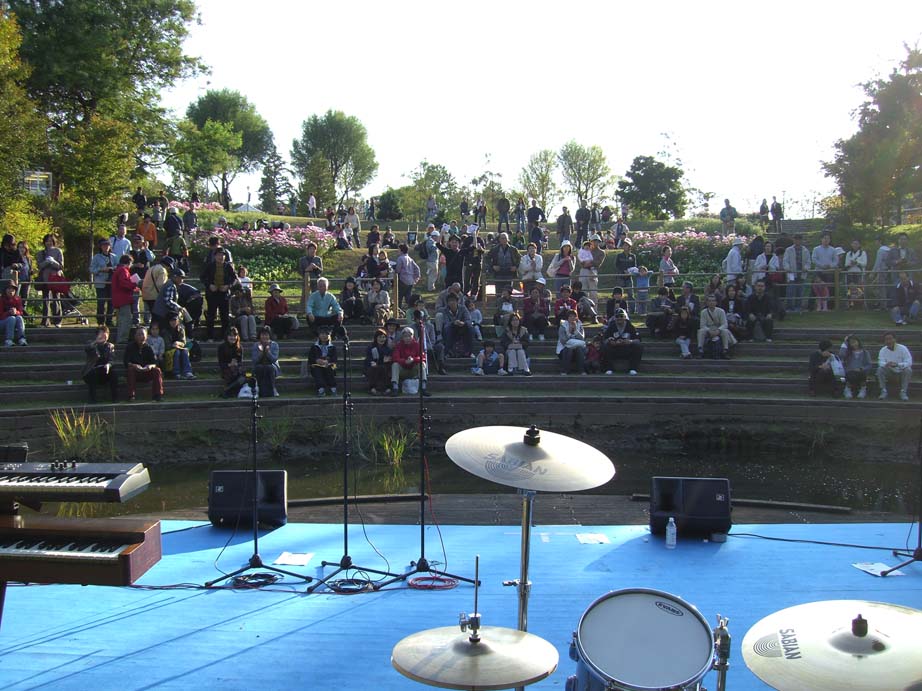 After 4 hours driving, we're still in Tokyo but in a quarter called Ueno. Here at the "Sensation" we play again with Skuff-links and Dallax and there's another band "Feel flip" where the female trombone player's just jumping almoust as high as she herself was (altogether about 2 metres) blaming our trombone player Mike, who always insisted, a trombone player can't play and jump the same time because one would ram your embochure into your teeths.
Back at Kosuke's home the evening's getting cosy, the father serves sashimi, sake and 8year old rum, everything very delightful, and one can imagine how most of the band looked like when we had to make 600 kilometres to Osaka the next morning...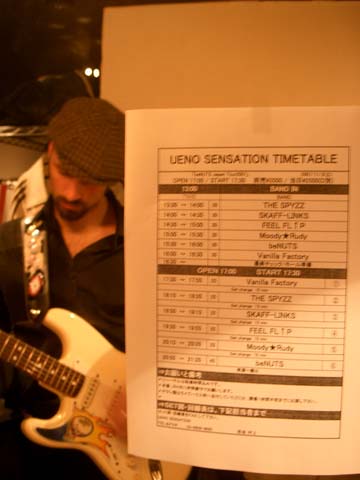 11/4th Osaka
Getting up was really hard (as experienced) but after a while we're on the highway where we realize, that driving in Tokyo includes traffic jam like Ska includes brass. Every some hours we do a pause and we get a taste of the Japanese roadhouses where it's so clean that you could eat on the floor.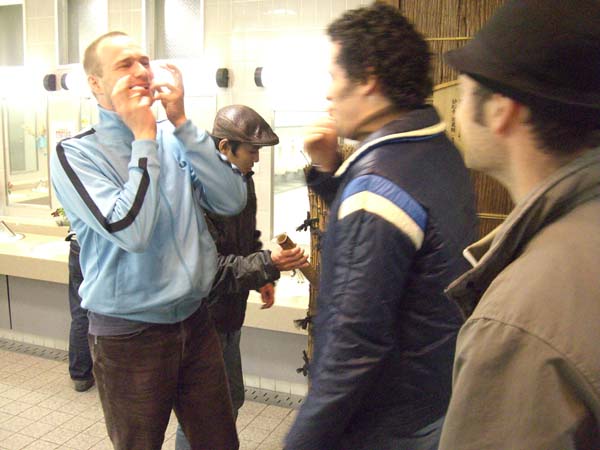 On a parking lot we meet Skaff-links, which are going to play with us tonight in Osaka and just drive home to Tokyo after the gig (musical masochism, isn't it?). Jesko and Fabian visit the Skaff-link bus and Ichi (The Skaff link's trombone player) joins the Benuts bus.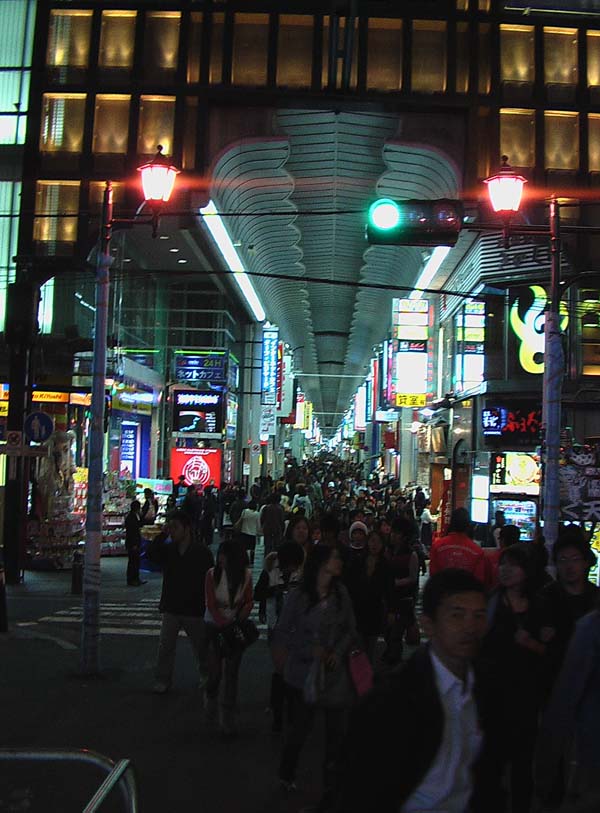 The "Jungle-Club" lies in the centre of Osaka and so we have time to explore the impressing city after our soundcheck and to eat some "Osaka-Pizza" with filmy stripes of two year old, dried fish which are moving in the hot air as if something on top of the pizza was still alive. Fascinating.... Mike and Jesko however where much more interessted of the Pachinko halls, Japan is famous for.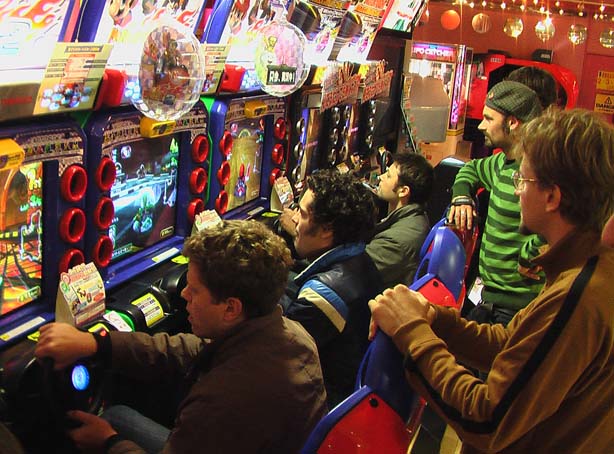 Then two hours crusing across Osaka till we got to our hotel in the red light district of Osaka, surrounded by "Ladies Clubs". But we prefer to sit in the lobby till the early morning, trying to empty to whole beer-dispenser. In the end we even succeeded, amazing the hotel employees. After two or three hours sleep (our only real european bed, but we realized this far too late...) the tour went on: Sightseeing!!
11/5th In Kobe
First a bit of culture: We visited the golden castele of Osaka and then to the "in-quarter" of Osaka, where whe waisted half of the time waiting for Mike who wanted to exchange, what comes in Japan along with a incredible (40 minutes) much bureaucracy.
Kobe and Osaka are one big agglomeration (like almost every city in Japan is part of a huge agglomeration) but you still need almost 2 hours on overcrowded highways. Then eating some meatbowhl and then what a gig!
First there are some female ska bands, very unusual for Europeans and then the band "Cutie Pi" just smashes a brutal mixture of punk and ska into the crowd, that we go almost deaf and blind. But what to expect, if the trombone player first introduces himself to you with "Hi, I'm Ume and I'm the greatest cocksucker of Japan" (note: we're in Japan, the country of civility, etiquette and understatement) and then is jumping while playing into the crowd on the balustrade and so on... and the bass player is also one of the fastest we experienced (Fabian couldn't believe his ears). Well what to do?
In the end everyone just gave 50% more power than normally (so about 160%) and then we needn't hide, even if Konni had that much power on stage that he jumped several times on Jan's feet and effect pedals. Such a gig gets you really really thirsty and in the end the convenience store around the corner was empty and we were plain...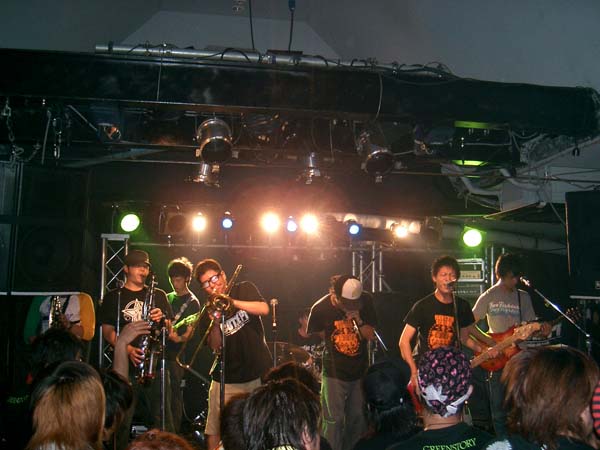 But we were just too tired to doing aftershowparty, what a pity, we just started to teach Ume Bavarian words like "Geh waida" (
Go on
or
So what?
) or "Saugeil" (
wack def
), he said it sounded like Chinese. For a change we ate at an Italian restaurant and after a short "beer- and titmag-stop" we finally arrived in the dawn the house where we should sleep. The house of Nambu's onclue, Yasu Suzuka (a famous fotographer) is actually a house in the green (yes, that exists in Japan!) which is also a vegetarian gourmet temple after 11am. So night was short.
11/6th Kyoto
We had this day only one hour approach, so we could sleep till 10am (that's about 5 hours of sleep, we could top this only one time on this tour) and go to our gig almost quite relaxed.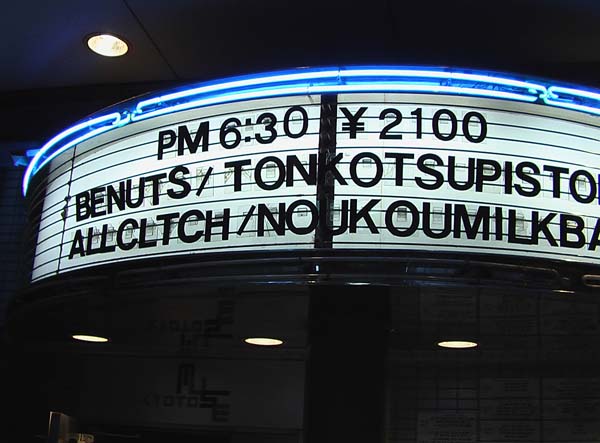 Kyoto is a bit slower and more traditional than Osaka or Tokyo. Sometimes you even see here western tourists. First we go shopping and try frantically to find an Internet Café (In Japan almost everyone has already a WAP mobile). Jesko and Mike disappear again for some hours in the noisy world of the pachinko machines, Konni loses his way and his band Jan buys two Japanes knifes but in the end everyone finds his ways back to the "Kyoto Muse Club" where never before has been playing a ska band.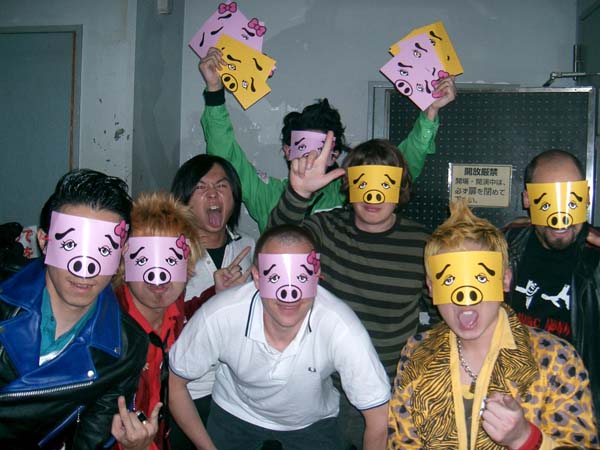 Afterwards same procedual as everytime: Packing, buying beer, backstage-check, Mike-check (If Mike forgot something), Konni-check (If Konni forgot something), departing, buying beer again, approaching....
At the Suzukas' home we do some little party, where the dachshund of the house (we called him "Ska Andy") fell in love with Konni's trousers and tried the whole night long to shag them. We rarely laughed that much (excluding Konni of course...)
11/7th In Shiga
The longer we could sleep in the morning, the wetter and longer the evening gets. That's the problem. In Shiga the two cars filled with nine Benuts arrive quite early and the club has a great ambience (though there should have been a ghost in the backstage room), so everything seems perfect.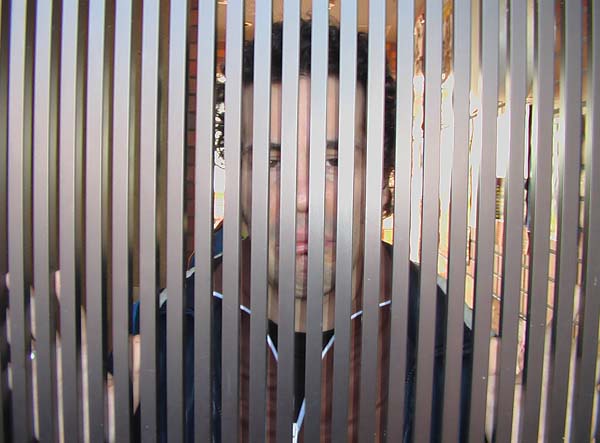 Ume from Cutie Pi joins us and then let's go into the city, to the lakeside and take a look at the amusemend center. Daniel makes some Highscore at the Basketball-machine, but thanks to his for Japanese almost unreachable size no problem....
After a "all-you-can-Sushi" the whole bands feels far too full for the stage, so three Benuts exploring the city to find a way to buy beer, not easy in a kind of "smaller town" for japanese relations. But in the end they succeeded and the gig is saved (Nambu and Kosuke just invented the name "Beernuts") once more.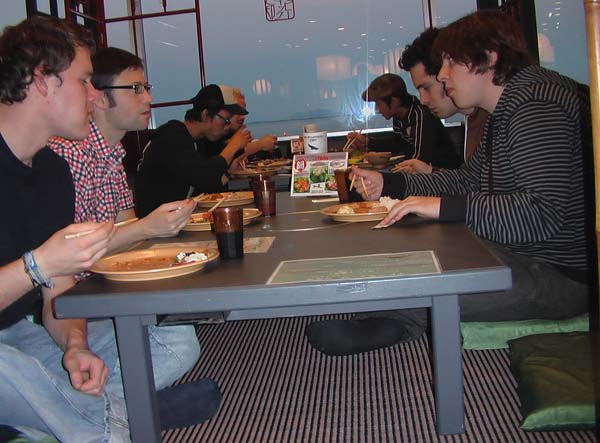 In the evening the bands dinner together and somehow the language barrier is broken. It is for us a bit astonishing, that many people in Japan can speak either very little or no English at all, especially our Singles in the band getting mad by this: You're standing on stage, watching her for a while, she obviously understands all announcements, keeps eye-contact and after the gig she's asking some guy next to her for translation which makes the flirt impossible.... very cruel
11/8th Off-Day in Kyoto
Off-day means "no concert", so we could finally get some culture, sleep long in morning, Fabi's bass-blisters could heal a little bit, we could go shopping and so on. For our tour report very boring. By the way, Japanese tourists in Japan take as many pictures as they do in Germany, so there where token at least as much photos with us like on a concert.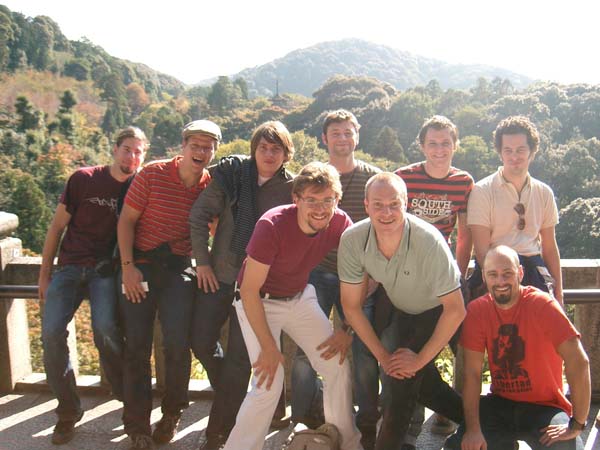 In the evening we were introduced to Nambu's oncle who not only first led us into a fantastic Sushi bar and later that evening made us happy with fine Sake and Whyskey (Which led together with the obligatory beer to a bad headache hext morning), but also showed us a Chadoh, the traditional Japanese Tea-Ceremony). Then we celebrated Jan's birthday and it became as late as usual. In the morning we were not really more relaxed (especially our brass section what completely shattered) but at least Jesko and Konni had washed their stage costums. Let's not go too far into detail about this ugly smell....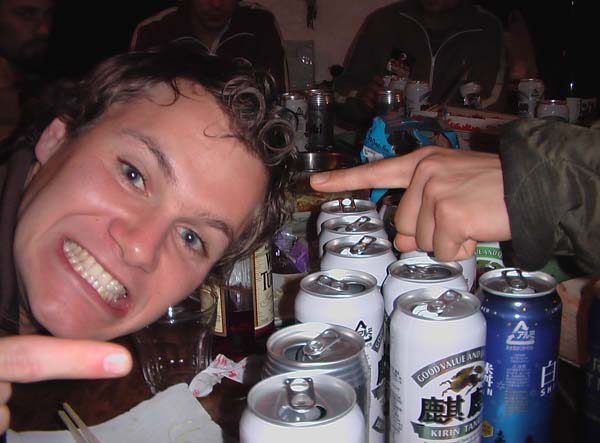 11/9th In Hamamatsu
Hamamatsu is a smaller city between Kyoto and Tokyo, famous for the firm Yamaha. And of course there is the "Mescalin drive". Well, everything seemed to by as usual till the singer of the band "Asakusa Jinta" unwraps his double bass and Geh, the trombone player of Dallax says to Fabian "maybe the best bass player in Japan".
That was no understatement and after the furious mixture of Klezmer, Marching Band and Ska the crowd was so hot, that it was an easy game for us.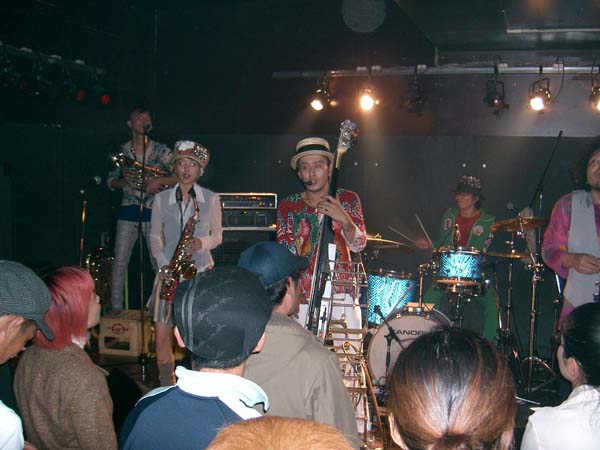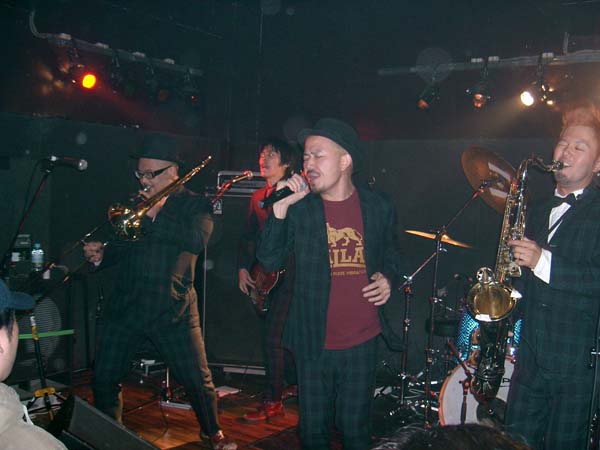 After the concert Dallax, Asakusa Jinta and Benuts went on drinking in a close pub. Only Jesko and Konni were sad, because the cute singer of the Reggaeband which also played didn't join us (They elected her to the "most attractive woman up to now", a title which means a lot if you take a look at THIS competiton there!).
At 4am everyone decided to visit the "Spa" (a japanese bathing house with sauna, steem bath and the possibilty to stay overnight), only Gen, Keh (the brass section of Dallax) and Fabian went on exploring the nightlife of Hamamatsu, returning at 8.30am after three bottles of Japanese booze. It's not necessary to tell about their state....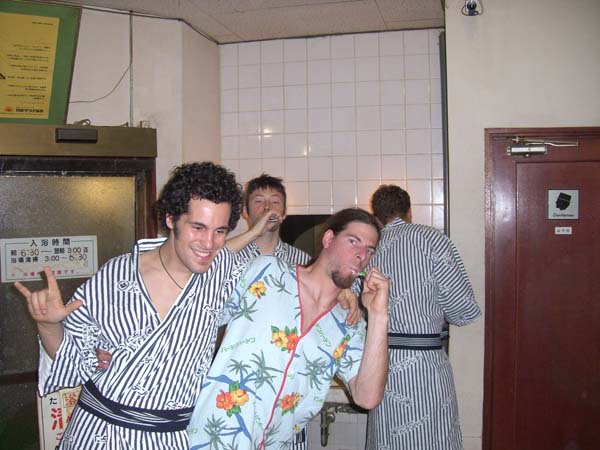 11/10th Aichi (near Nagoya)
By and by wear and tear at a big part of the band became visible. Aichi was again a bigger club with a lot of really good bands. Dallax joined us again, and we met also the "All about ska performers". By the way, the lightshow of this evening was top!
Before the gig we just refueled our batteries at the "Running sushi" which turned out to be a eating contest and a wasabi-contest. The wasabi contest was clearly won by Veith. We still suppose, this guy snuffs wasabi backdoor...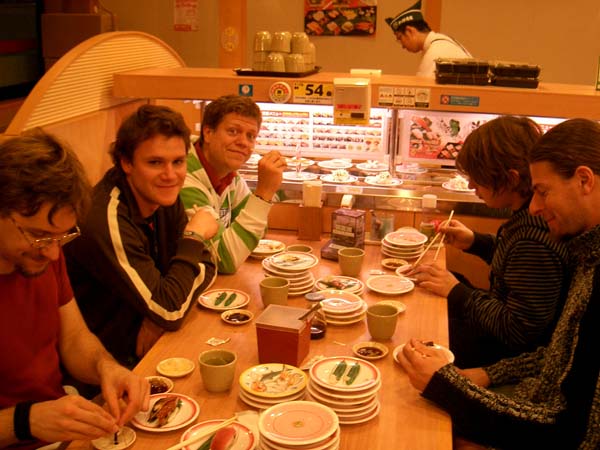 After the Gig we should return to Tokyo (5 hours to go) but first we had to go to a ceremony with the organisator of this gig, so we started two hours later and when we finally arrived at the house of Kosuke's family sun was risen again.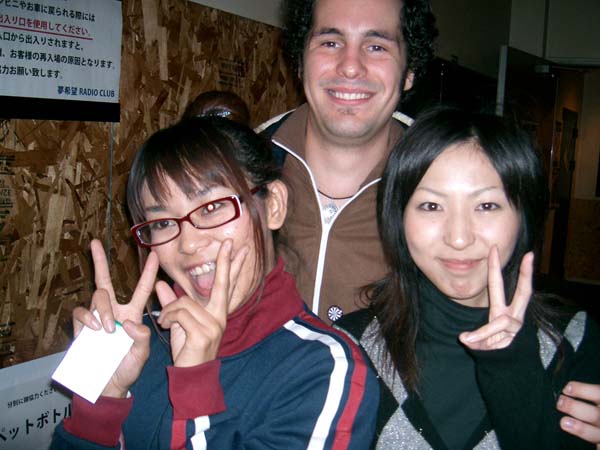 11/11th Back in Tokyo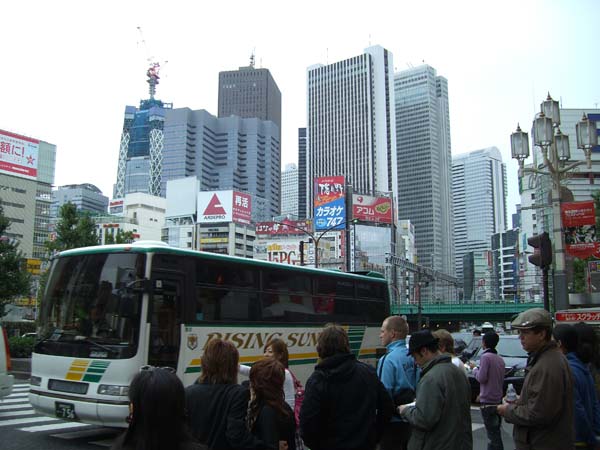 Our last concert of the tour should become a really worthy ending. On the one hand there was the ACB-Hall, a great venue in the centre of a redlight- and partydistrict, on the other hand we had a great line-up together with e.g. Dallax and Cutie Pi.
But somehow we already felt a little bit sad as we entered once again the city of Tokyo this evening. It was obvious that we will miss this great place soon...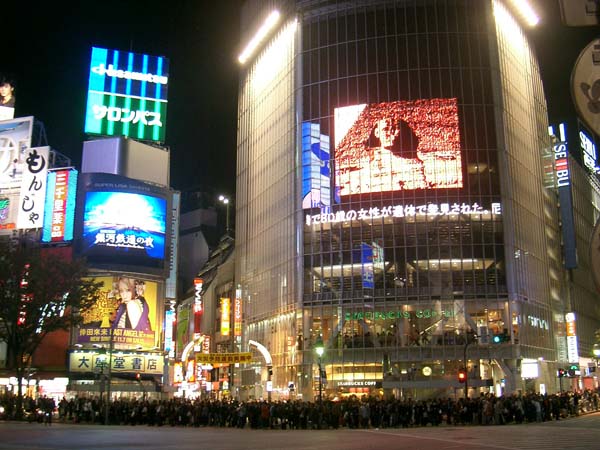 Just incredible those masses of people compared to Germany, it's like the famous "wall of death" at certain death metal concerts if you're standing at such a big street, waiting for the green light. We went on shopping a bit and we even found our CD in a music shop.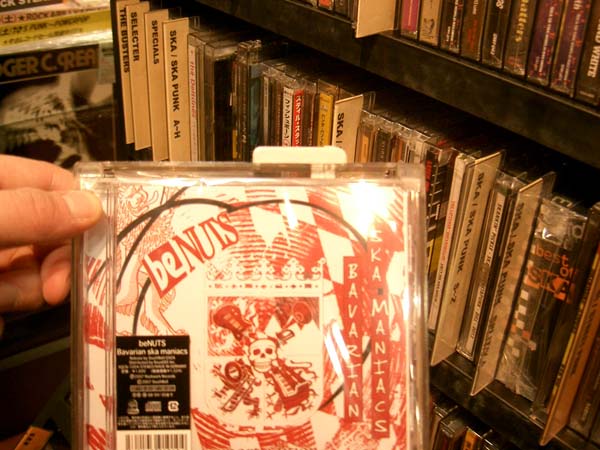 When we returned to the venue we could not even get through the doors because it was already completely full and when Cutie Pi entered the stage as the third (of seven) bands the first Mosh-Pit aready circled through the crowd. Great!!
After a great concert, where we once again took all our strengh (the last we spared somehow) together the boys of Dallax and Cutie Pi joined us on stage to sing together our version of the japanese Frog Song, a nursery rhyme for children, which always was the highlight of every concert, because all the Japanese were very amused about our way of pronouncing the japanese language.
After the gig there was Yuji's (the drummer of Cutie Pi) birthday and they just carried them into the room, dressed as a birthday cream pie (which means almost naked). We're sorry not to have to opportunity to show you pictures, but in the end this page won't be available for kids anymore.....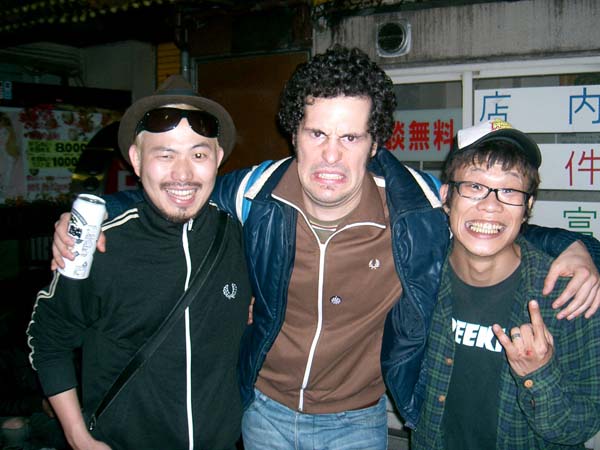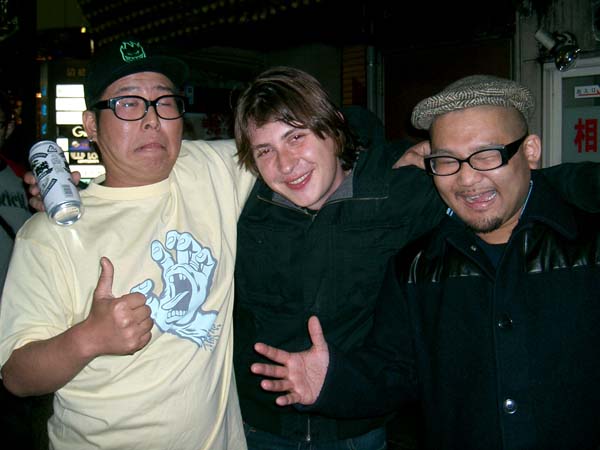 11/12th Tokyo-Kobenhavn-Munich
Goodbye isn't a nice word...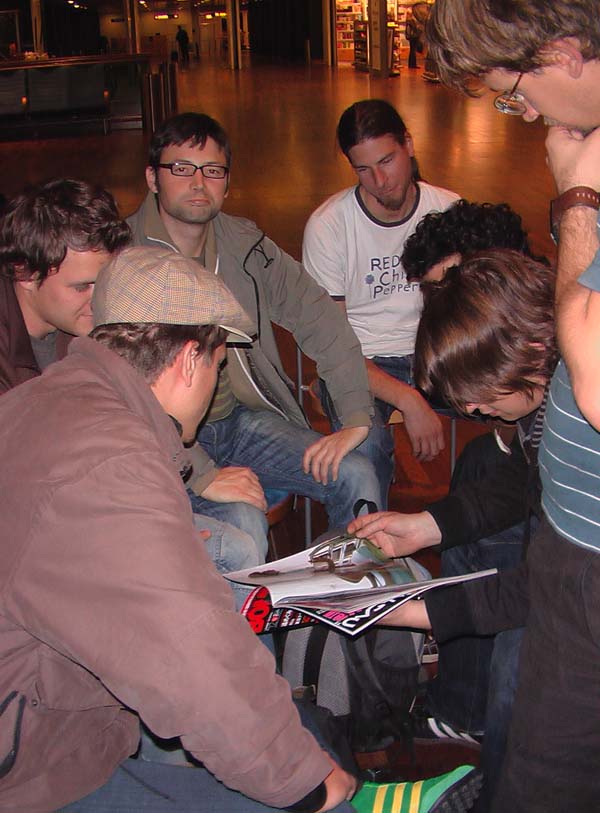 Passing Kobenhavn again we went back to our home, even our luggage didn't get lost and arrived safe. And there's one thing left so say:
Nihón o dómo arigató gozaimásu. Wátachitachi wa rai-nen ni nihón e ikimásu!
Thank you very much, Japan. We hope too see you soon again!