Russland Tour 2008
March 13th, Los cojones fabulosos
After we visited the wild wild east as the first German ska group in 2005, we came in the springtime of 2008 for the second time. It's maybe one of the last big adventures, because you never know exactly what might happen...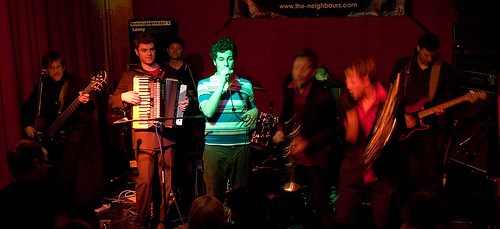 To start our tour we made some little surprising gig together with Fabi's Band
The Neighbours
at the Glockenbackwerkstatt in Munich. Lined up with the extremely extraordinare pseudonym "los cojones fabulosos" (the fabulos cocks) we intended to be some Mexican ska band, but somehow somebody must have heard about this plan, because there were some girls in the crowd wearing benuts shirts. By the way, the next time we will choose a name, Konni can spell correctly (e.g. Beenots). Every second speech of him just ended up abruptly if he tried to pronounce this stupid name correctly.
Considering that we should be at the airport at six in the morning, we decided to replace sleep by a sit- and beer-in at Jens's home. So we were quite done when arrived at the airport, which was already opened at five, a fact that surprised Jesko who had a quite different theory about opening hours of airports....
March,14th, We're TV stars!!
The queue at the arrival in Russia was as long as usual but at least no instrument was yet broken (or let's say, we thought so). When we left the airport our guide Andrej and a girl from the Russian Musictelevision A1 already waited for us. For some reason drei boys got in the comfortable TV-Bus and six in a van which was a little bit smaller. So the two hour lasting drive through the extremely crowded streets of Moscow was enjoyed by only one third of the band.....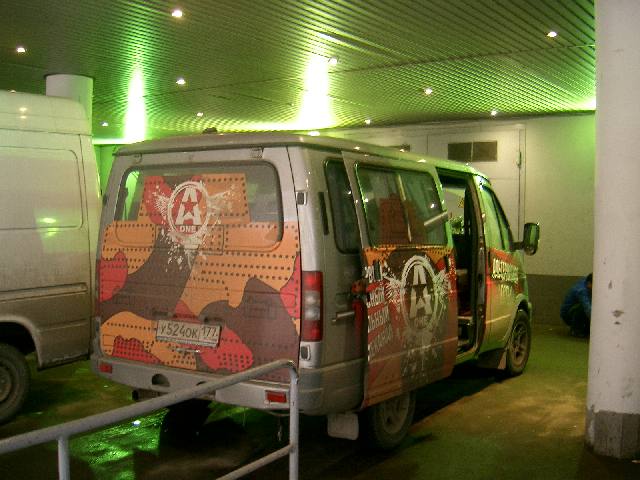 The Russian station A1 has a big stage in some shopping mall where they regularly produce a show where bands perform live in front of a crowd and later have an interview. This show is normally seen by between 150.000 and 350.000 people so we were kindly requested to get really mad and to electrify the crowd.
No problem, of course, but then there was the snag: After the tourmanagers intervented, there would be no crowd, because they were afraid, that less people would come to the concert two days later in Moscow. Alright, so you simply have to IMAGINE, that there's a roaring crowd in front of you, and the party's in the house....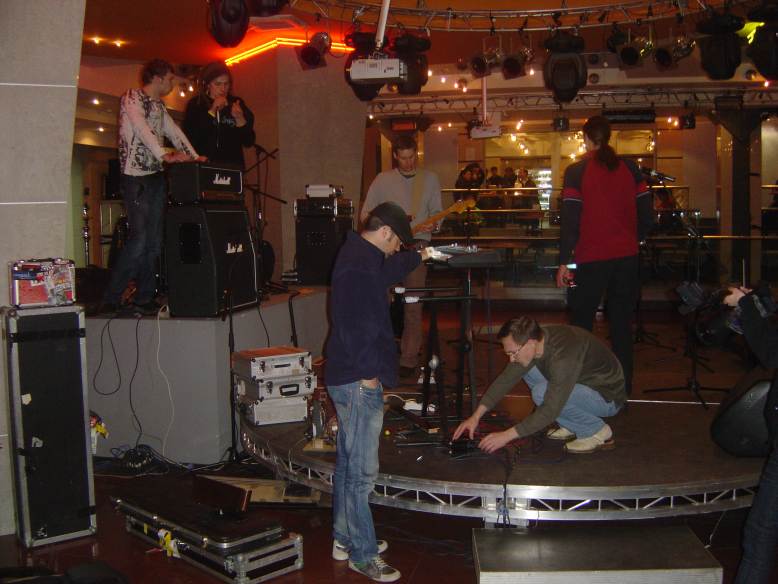 But before, Jens could just impress the Russians, how a German engineer repairs in a minute a broken organ without tools. (Okay, he got a lighter and a gaffa-tape)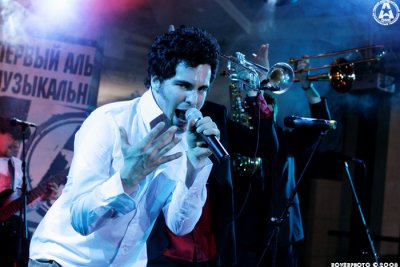 After a short walk we started with our second cultural mission (maybe even the more important): The Russian beer. It tasted as good as supposed, although at the whole tour all the Russians (male and female) couldn't belive, that we like their beer that much. Meanwhile the Russians at the station drank their Belgian of Czech beer, not bad either, but somehow a cultural imperialism we do not want to support!
After the concert there was the interview which had another small catch. We couldn't understand anything because of the reverb in this big ball and so Olli and Daniel just guessed, that to answer. Later we listened to the record of the whole show and realized, that they weren't that bad. Old professionals!
Instead of Beer, Worldwar and Munich Beer Festival, by the way, the Russians associate Pornos the most with Germany, some nice little variety. And so we were asked if we had already something with a pornostar (silence - we never thought about this possibility) and where to meet them in Munich (after some discussion we would send them to our prefered Music Clubs: Backstage, Substanz and Atomic Café).
Afterwards a little bit of beer, then more beer at the "Tabula Rasa" where we should play in two days and where we had the luck to meet "Markscheider Kunst", a ska/latin/salsa Band from St. Petersburg. But however we had to leave, because the Wodkatrain was waiting
March, 14th, Wodka Train
If you want to get in Mocow from A to B, you step on the street and immediatly a (normally small and dark grey) car is stopping. Then you bargain about the price, try to get about 12 guys and 25 pieces of luggage into three small Ladas and then it goes on and if you're lucky you even survive all the turnarounds, almost-accidents with 90km/h and disregards of red lights and yield signs.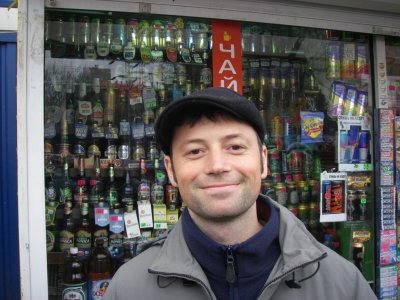 But if you want to get from Moscow to some other city in Russia (and in general they are quite far away because Russia is that huge) you take the night train and this sound at first more reliable and calmer. We, at least, thought what a great idea, so we will arrive tomorrow in the morning in St. Petersburg fresh and relaxed (once again we had about 2 hours of sleep and 50 hours of beerAndSka).
Unfortunately it turned out that the train was filled with Russian Hooligans, because at the next day was a football game of Spartak Moscow against St. Petersburg.
We immediatly found friends in the train and they (of course) wanted to test our drinking ability, and (of course again) we were happy about this. Now we really are professionals about Russian beer (very fine, often with a delightful taste of flowers), Russian Vodka (better than anything in Europa and available in the train in every quality and price), Russian Whiskey (came a bit late at night, so we actually don't remember how it was) and Russian wine (kind of Portwine but with a different finish, difficult to describe).
The hooligans were by the way very impressed how much we could drink and so they promised to visit our concert after the football game, a fact that really paniced our managers. They were also a bit concerned about our companionability and our thirst because they feared we could not play a good concert next day. (They obviously never red one of our tour reports...)
At five o'clock they could even convince the last Benuts, Fabian to go to sleep, who had a lively discussion with eight Russian hooligans and one Serbian about the Kosovo and the history of the Balkan region.
March 15th, Griboedov Club, St. Petersburg
The train, we only called "Wodka Train" since (maybe we're going to write some song about it...) was almost completely destroyed in the morning when we arrived. Unbroken windows were only left in our waggon.
It's stupid, we didn't think about taking a picture because we were occupied with searching for Simon who got lost in the crowd of the station (please also consider our state).
Then we went to Gribojedov Club, on of the hippest clubs in St. Petersburg up to now, hidden in some old bunker. After a breakfast and some good-morning-beers and mojitos (only because of the vitamins) we got some guided tour in St. Petersburg.
And then before the soundcheck the hit: MTV Russia had been coming and wanted to make an interview with us. To have some pictures they already recorded our soundcheck where a drowsy Konni (with hairs like after a storm) was just yodeling into his mic, not realizing that he's been filmed. (meanwhile we have 75 hours and only 7 hours of sleep not to mention the melange of beer, wodka and mojito). But we were lucky: The filmteam stayed and also filmed our concert which was (yes, no exageration) maybe one of our best ever.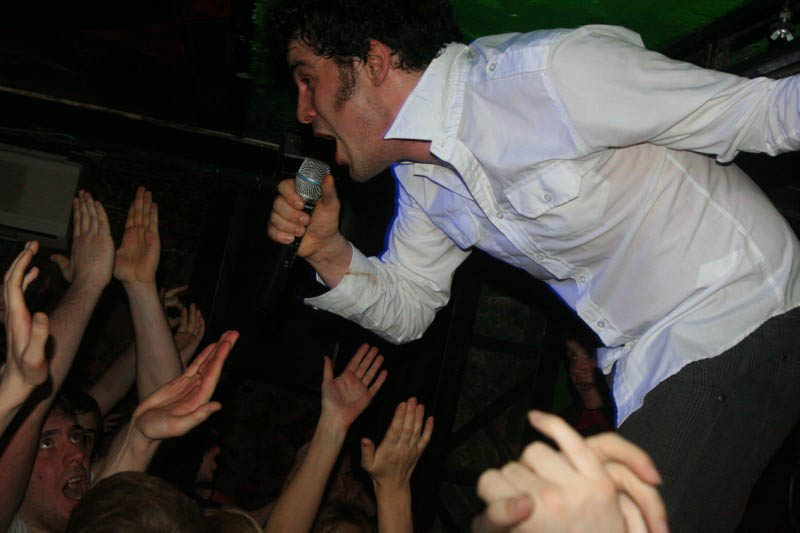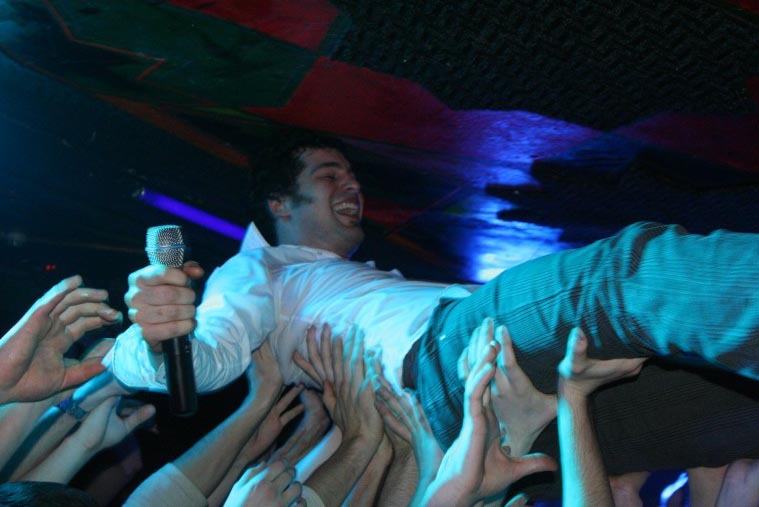 The concert of Grboedov showed once again that Benuts are at its best, when they're almost completely smashed. Konni and Jesko just did it like all the stagedivers, taking a bath in the crowd. After the concert we would have liked to stay a little bit, talking to the people. Wwe got a lot of invitations for wodka, and don't forget about the girls, Martin just got his first fankiss....
Alas! We had to reject many of the invitations for wodka, because our guides said, we had to leave instantly to get the nighttrain still. Not till everybody was in car, they told us we still had one hour (it was about a 20 minutes walk from the club to the station), but you never know what's happing in Russia. In retrospect it was quite good having that much time, because buying beer already needed one quarter hour. First the woman in the kiosk thought she didn't understand us, as we tried to order 36 beer and 8 water with our bad russian and then she needed about half a minute (really no exageration) per can, to get it in the bag.
March 15th, Nichttrain to Moscow
Without hooligans we had (for the first time) in the train the possibility to catch up some sleep. We were so happy about this, that we just went into the bord restaurant of the train to drink together some cosy little nightcap. But the restaurant was still already in St. Petersburg (a march of about 2 kilometers through sleeping and snoring people), so no one wanted to get up and return to our beds. In the end about 20 beer, 4 bottles of vodka bit the dust and Simon, Veith (the 9th Benuts and forever-soundguy), Fabian and Jesko were the rearguard which continued drinking till the early morning hours.
Sometimes pictures say more than words, so what else to say??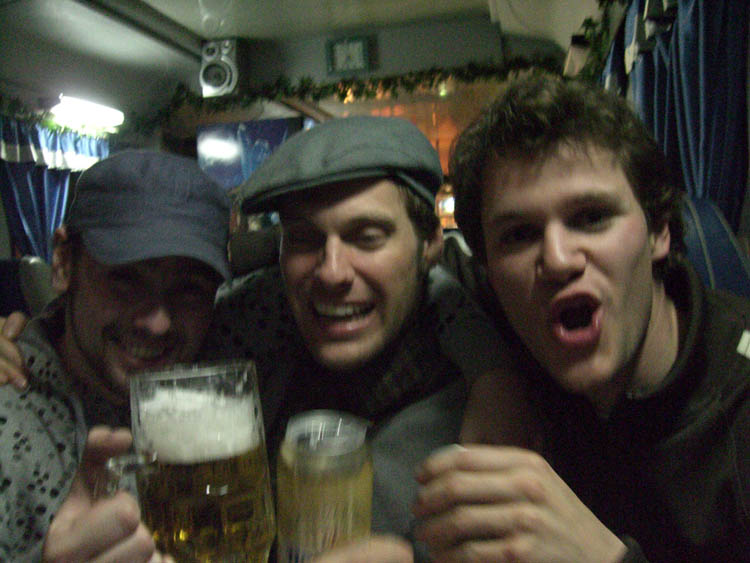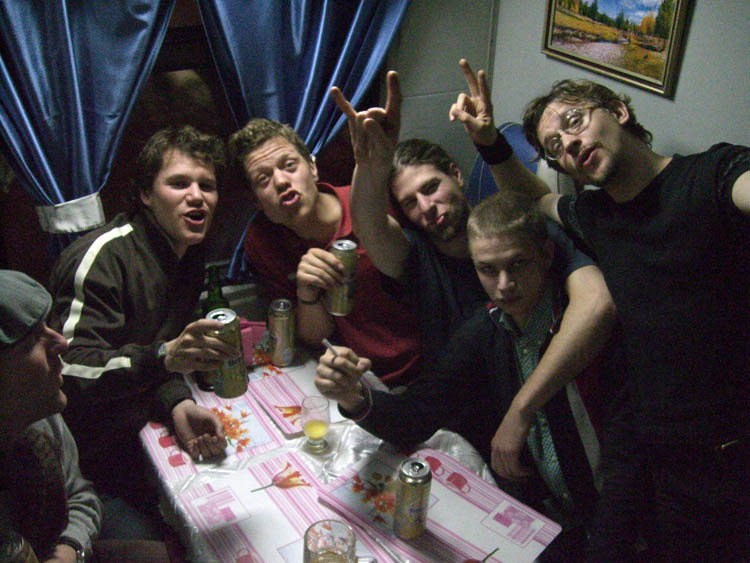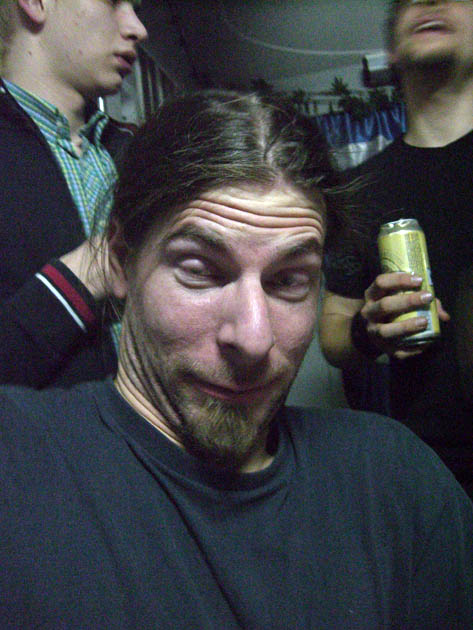 March 16th, Back in Moscow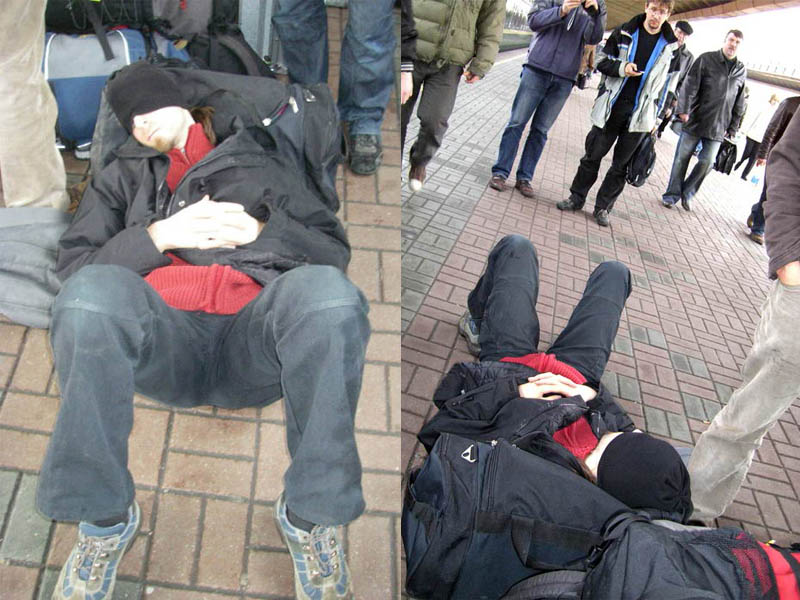 Maybe it was because of the taxi drivers were afraid of losing their drivers license if they got us in the car (there's 0,0 promil in Russia), but it lastet for a very long time to get the whole band into "taxis".
But in the end even Veith and Jens together with their approximately six promilles arrived at the club. There we kept our equipment and the people spread to the different appartements of our guides to have some shower. Some saw the new Kusturica-film on russian, some saw a bit of the city, Jens decided that half buzz is no buzz and beside that waste of money (so he kept drinking beer) and some just had the opportunity to get some great Russian ska (Cnacibo, Vladimir!!!).
When we arrived at Tabula Rasa some of the band still (Veith) or again (Jens) couldn't stand straight.
Before the concert there was another interview of a German production about the Russian underground bands, and there we could talk a little bit about our impressions and experiences being on of the very few German band coming to RUssia.
Then the club by and by filled, some came because they just saw us three years ago, some because of A1 and so on.... Kiosk, Private Radio and Skalpel (their bass player organised our gig in St. Petersburg and lost his voice while drinking all night long in the night train with us). This happened, godluck, to Konni just one day later: He just got so mad at the concert that he not only maybe did the longest vocal-solo in the history of the band but also burned himself that much out, that he couldn't almost say anything the next day.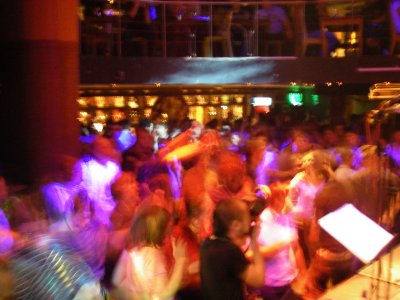 Though there might have been other possibilities (...), the evening ended up quite comfortably with much beer and vodka in the appartement of our tourguides. Considering 12 hours sleep and more than 100 hours tour, it's not surprising some didn't get old....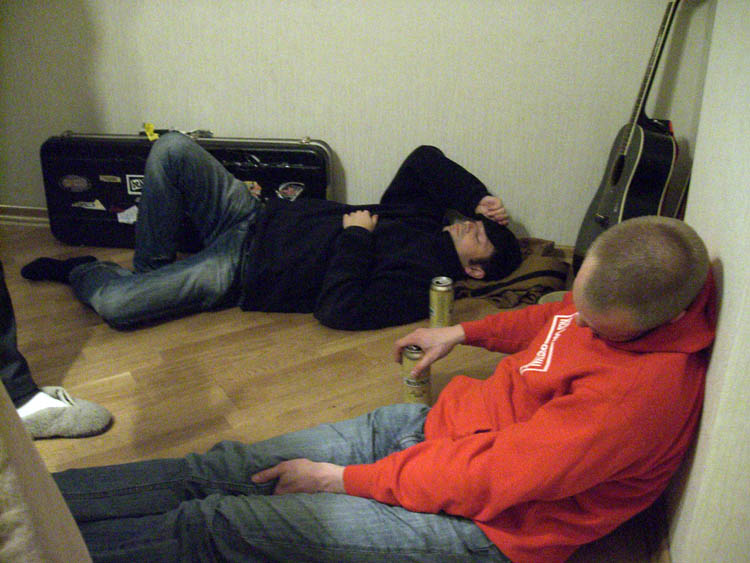 March 17th, flying home
The obligatory Russian breakfast with blyni, cream, beer and (but for the first time everyone refused!) wodka was at eleven. Jens and Fabian played a little bit guitar, Konni tried to accompany with a melodica but Daniel took it away from him - much applause by all everyone, and the others searched in Russian contact chatrooms for girls from Munich. Then suddenly there was the thought that we still didn't see anything of the touristic Moscow and so we just departed quite hectically without company to get some nice touristic pictures from Russia.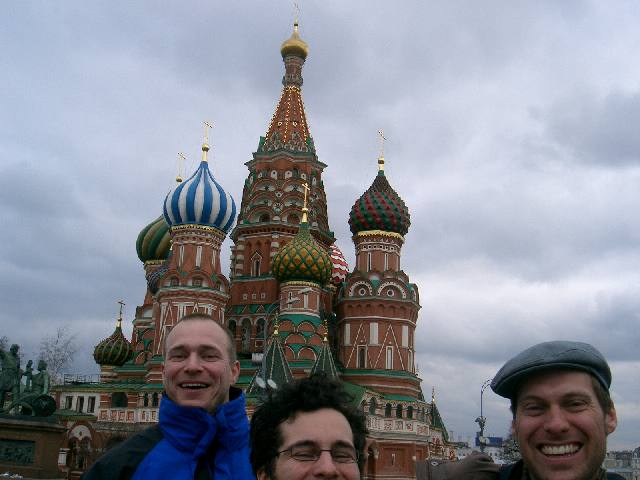 You never know what could happen in Russia - so we left four hours before the check-in for the airport. Unfortunately again nothing happened and so we sat three hours at the airport, comparing the legs of the stewardesses (British Airways won undisputed).
Not to mention that, as always, one has been considerate boundlessly of Konni's fear of flying (Konni: "Such as goddamn band")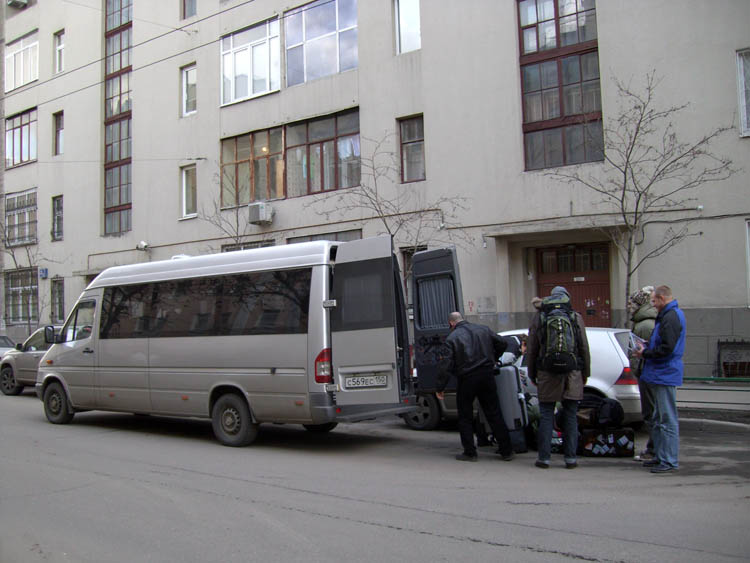 And then suddenly we were home again. First we only intendet to play two concerts. Finally it has been three concerts, one of it at a TV station with about 200.000 viewers, three interviews (in Russian, English and German) and one complet live recording of a concert.
Not that bad....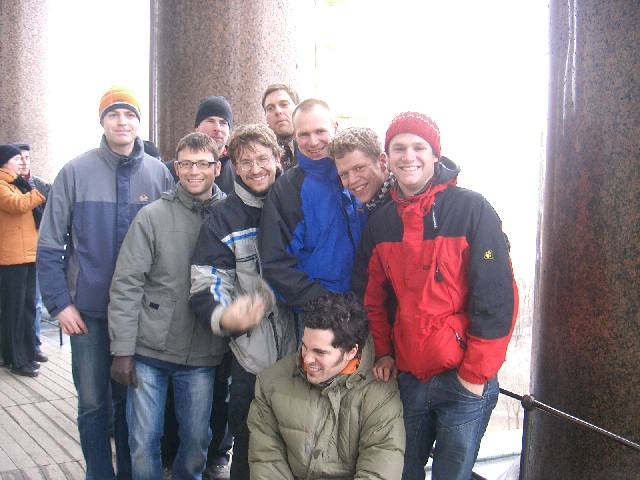 So once again a big bow and a Nastrowje.